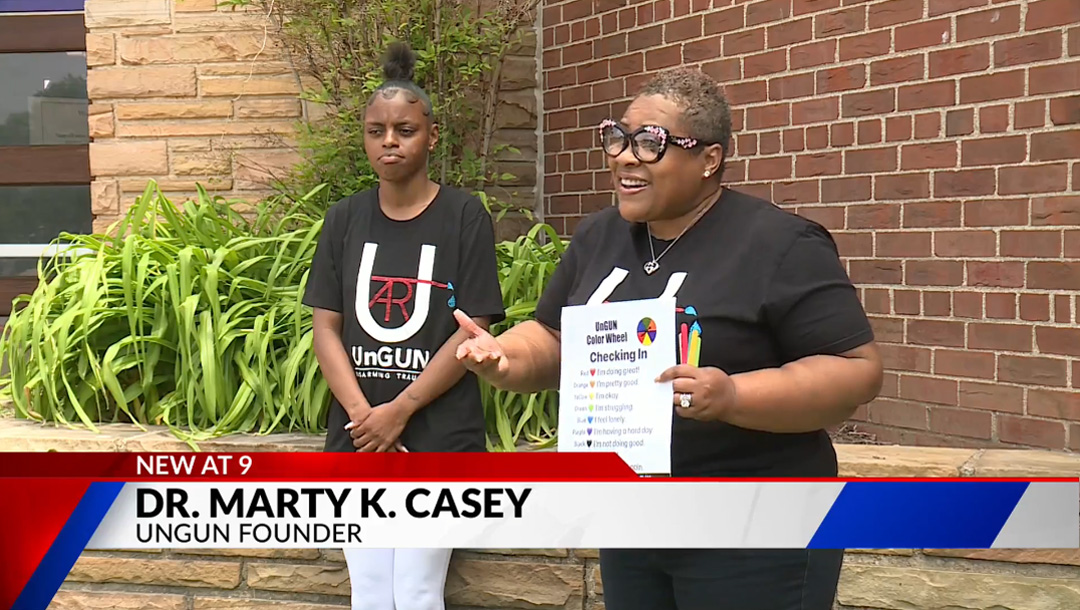 Woman shot 5 times while pregnant shares her story 4 years later.
ST. LOUIS – A young woman who was nearly shot to death while she was pregnant shared her story. Four years after the shooting, she's learning to heal and spreading three very important words.
"My momma always told me if you smile, people won't know what you're going through," said 19-year-old Daisha George, a shooting victim.
On May 15, 2019, on Lucille near Riverview in north St. Louis, when George was a high school freshman, age 15, and 9 months pregnant, she was shot five times by the father of her child.
Her life has not been magically transformed since then. She credits something called UnGUN .
"I got shot on a Wednesday. I lost my mom on a Friday," George said.
Her mother had ALS and lost hope after hearing about the shooting. Her condition worsened quickly, and she died.
"It was a lot: depression, postpartum, a lot of everything," George said. "Anger built up because I couldn't talk to her anymore. I didn't have nothing. I didn't have nobody and it kind of hurt. It hurt."
Repeated fights and skipping classes at Soldan International Studies High School nearly kept her from graduating.
Trauma like George's has been through breeds anger that eventually comes out one way or another, according to UnGUN's founder, Dr. Marty K. Casey.
Casey is a singer, actress, and producer who said the Ferguson unrest in the wake of the police shooting of Michael Brown, 19, in 2014, pushed her into mentoring young people. She founded the ShowMe Arts Academy.
The alarming number of young people trying to cope with trauma brought on by gun violence led to UnGUN.
"That is one of the reasons people are picking up firearms—because they want to escape their personal hurt and pain," Casey said. "If we address it, and we build a stage and an opportunity to talk about it, we can help them "UnGUN" that and bring those things forward and up and out of their mind, body, and spirit."
She's now taking her UnGUN program to 200 students in 10 St. Louis Public Schools middle and high schools.
Source:  FOX 2 By Kayla Shepperd, Andy Banker – Read Entire Story Here